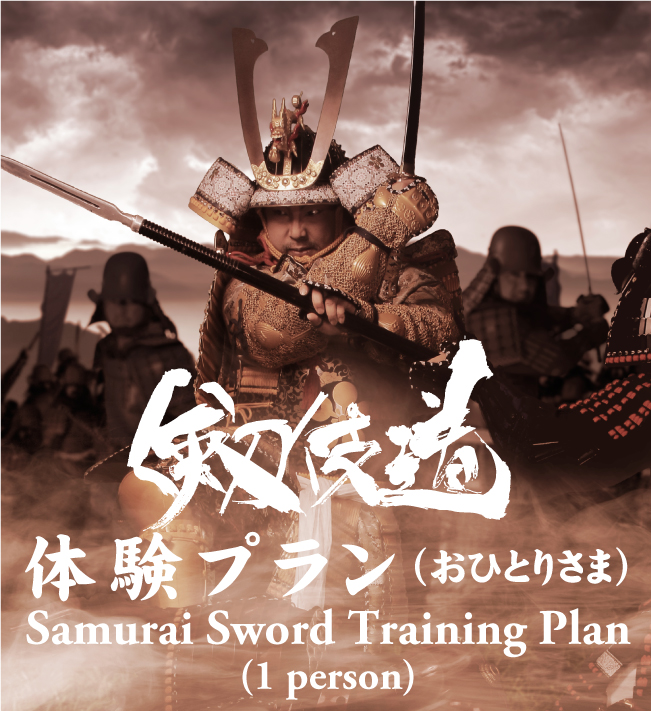 It begins and ends with REI – a bow -.
Samurai Sword Training plan
(1 person)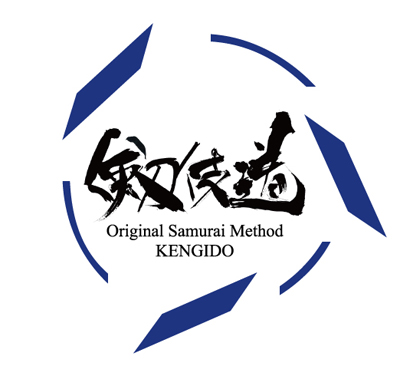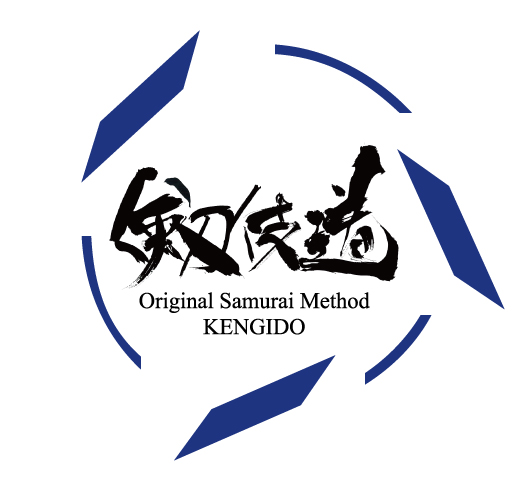 Very popular plan that you can feel, and enjoy posing as a real Samurai at the armor scene shoot after experiencing "KENGIDO ? the Samurai Sword Art -" (sword training)
The world blockbuster movie "Kill Bill" from the director Quentin Tarantino. Tetsuro Shimaguchi from "Kamui the world-wide Samurai Sword artist group" arranged the sword fight choreography and also starred in the movie. This plan is shooting the poses arranged by him while experiencing the "KENGIDO".
This is a premium photo shooting plan only our studio can offer experiencing the real Samurai skills while enjoying wearing the armor with the Samurai spirit of sword as well as experiencing authentic photo shoots. You will master the basic forms, etiquette as a Samurai, and how to handle a sword arranged by the exclusive Samurai artists who have full knowledge of the KENGIDO, and then receive the photo shoot. After 20 minutes of "KENGIDO" experience and, authentic photo shoots, you will face a challenge of shooting a movie and perform the Samurai action that you have acquired.Your appearance in the photos and the video you receive it as if a Hollywood star! Let's experience this opportunity!
About KENGIDO
It is "the WAY" the fusion of "KEN"- the Sword skills-" as martial arts and "GI"- the technique – as performing arts, mastered for beauty of form and intangible spirituality that have been inherited from ancient times in Japan.
KENGIDO website
https://samurai-kamui.com/kengido/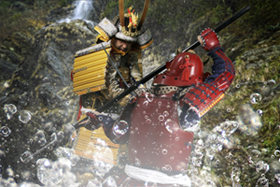 Price
59,000 Yen per person (approx. 120 mins)
※The sword artist who arranges the instruction is an active professional sword fighting choreographer in the real stages or performances. We would like to ask you to arrange the bookings of the date and time you wish at least one week in advance due to adjust their schedule. Please note that we may discuss the booking date depending on the sword artist's schedule. Thank you for your understanding.
※It is possible to request Tetsuro Shimaguchi.(additional fee 70,000 Yen per person)
info@samurai-pictures.jp

Payment can be made either by cash or credit card at our studio. (Visa/Master/American Express/JCB etc.)
All prices are inclusive of GST
PLAN CONTENTS
It's possible to bring home various print goods after photo shoot.
Sword skill lesson, experience
Beginning from Samurai etiquette and mastering basic forms, how to handle the sword etc.
Experience a photo shoot in an authentic armor
Chroma key shoot(6 composite photos includes horse riding)
Photo printing, download, A2 size poster, T-shirt are included.
About 20 cuts of backstage shots (a memorable shooting) for the sword skill lesson and experience.
Feel like a Hollywood star !!
Act with Samurai Sword Artist KAMUI !! Experiencing chroma key film shoot. (Approx. 90 sec film production)

Armor Experience

Photo shoot in armor

Background composite

Sword Fighting

Horse-riding

Movieshooting

Photo print

Poster

T-shirt

Download
How to process
1.Choose your armor
Choose your favourite armor in total of 8 styles.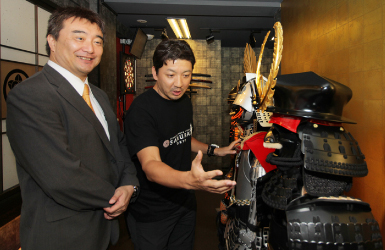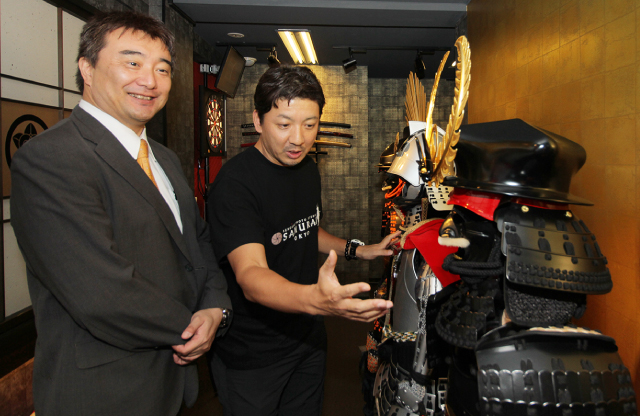 2.Semi gear-up in armor
Gear-up partially in armor as you can move around easily.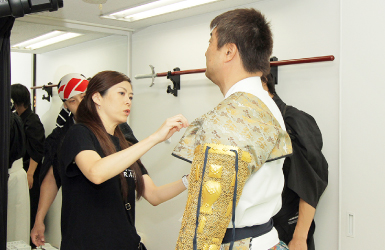 3.Commence the experience by bowing
It allows you to acquire Samurai manner.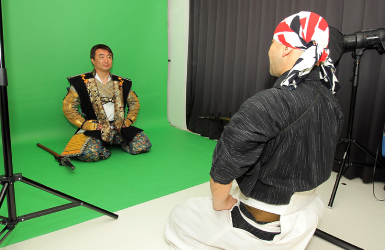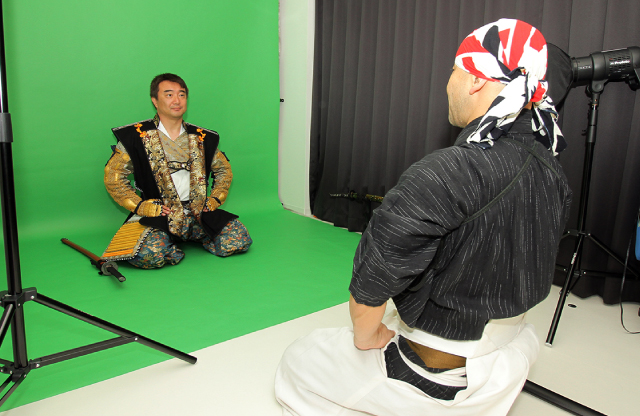 4.Lesson for form
Learn how to handle a sword such as the position, carrying, drawing and placing.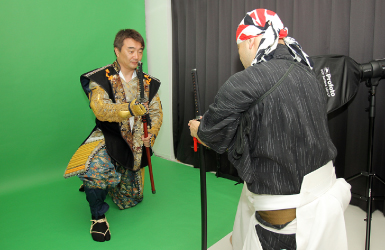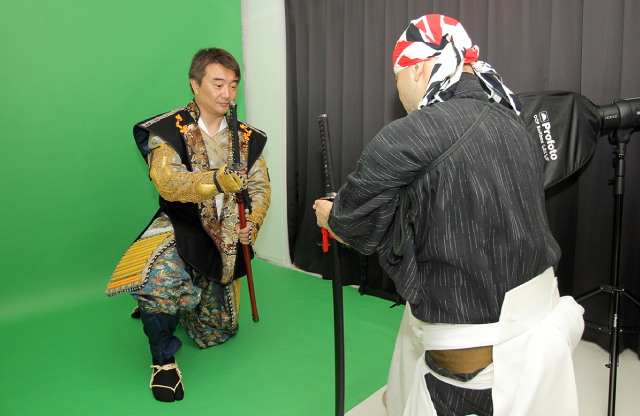 5.How to swing the sword
Learn how to swing, receive and handle the sword.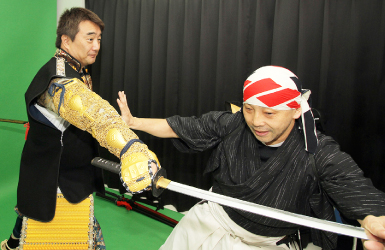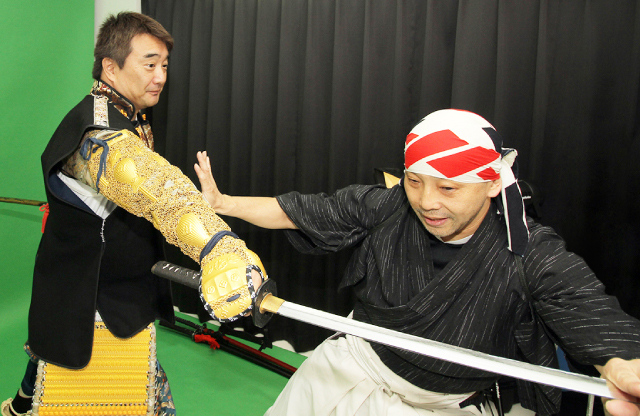 6.Experience sword fighting with other Samurai Sword artist.
Real action of beginner sword fighting against staff.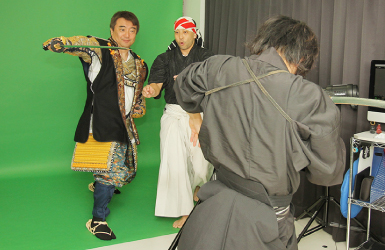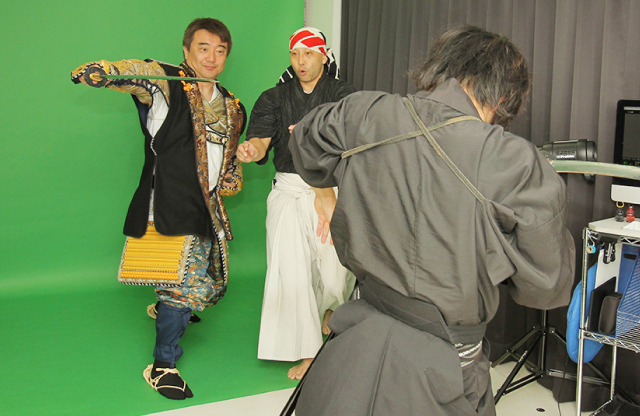 7.Shooting pose instruction
Advice authentic poses as a Hollywood star.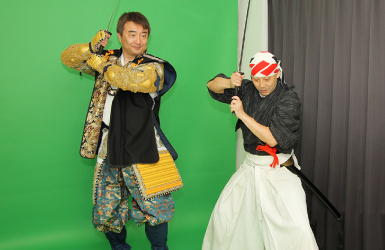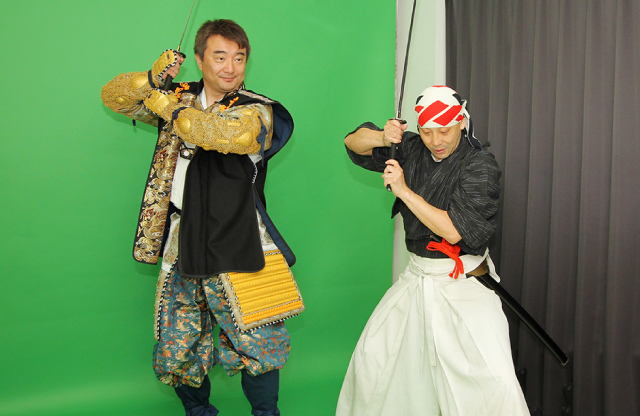 8.Gear-up in full armor
Gear-up fully in the chosen armor (chosen by yourself) including weapons.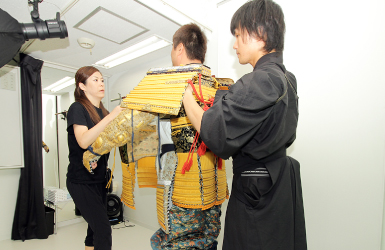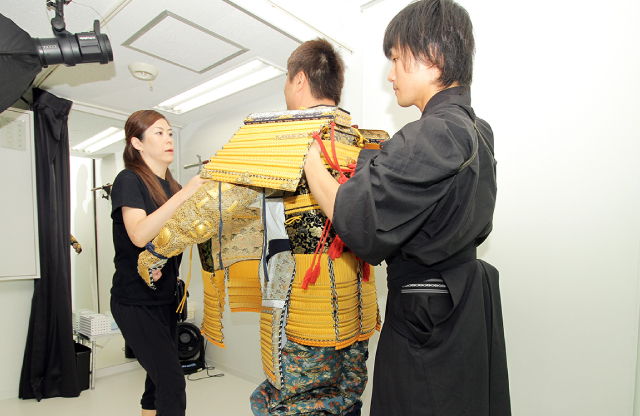 9.Photo shoot with selected poses
Shooting the photos with your favourite poses.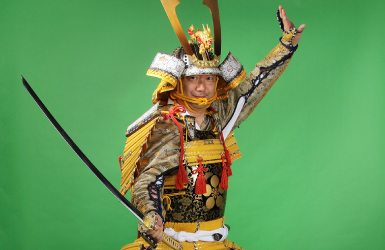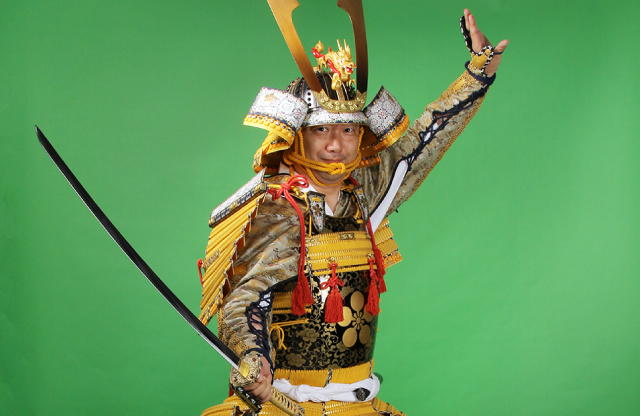 10.Movie shooting as if you are an actor
Acting from previous lessons in the movie shoot.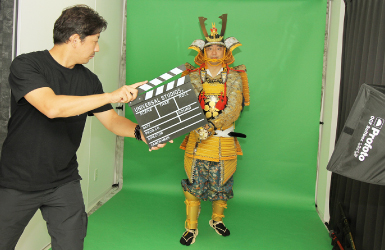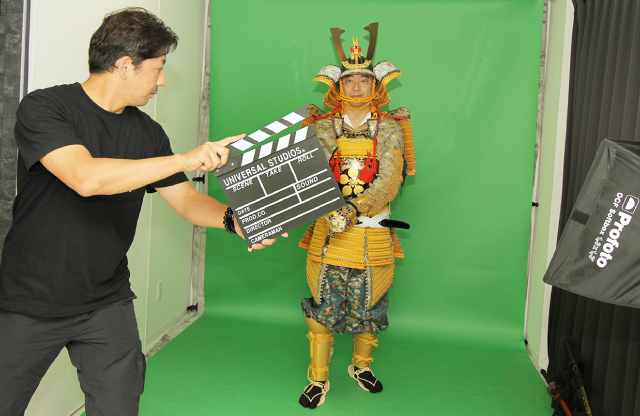 11.Sample proof of the photos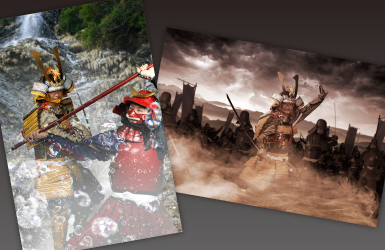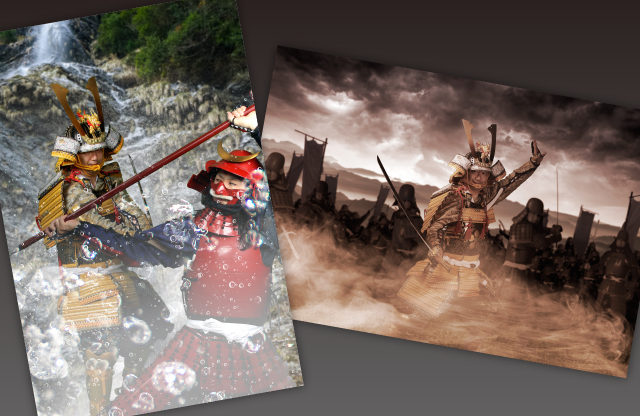 12.Sample proof of the video
You can select your favourite armor

※If your height is over 4'11"(150 cm), armor for adults can be worn.
Options
Photo shoot
| | |
| --- | --- |
| Additional background data | 1,500 Yen |
| Additional background data(Horse-riding) | 3,000 Yen |
Printable goods
| | |
| --- | --- |
| T-shirt | 4,800 Yen |
| Mug | 2,100 Yen |
| Tote bag | 3,200 Yen |
| Coaster (set of selectable 3 photos) | 2,100 Yen |
| Cushion | (Large)4,800 Yen/(Small)3,200 Yen |
| A1 size poster | 3,200 Yen |
| A2 size Poster | 2,100 Yen |
Others
| | |
| --- | --- |
| CD-ROM (includes all data of wearing armor, memorable shot, background composited data, etc.) | 6,900 Yen |
All prices are inclusive of GST.
ABOUT SHIPPING
Shipping service available with EMS (Express Mail Service). An additional shipment fee will be required.